YULCOM is a finalist for the Innovation Grand Prize of the Alliance des Patronats Francophones – Enterprise Category, at the 2023 Francophone Entrepreneurs Meeting.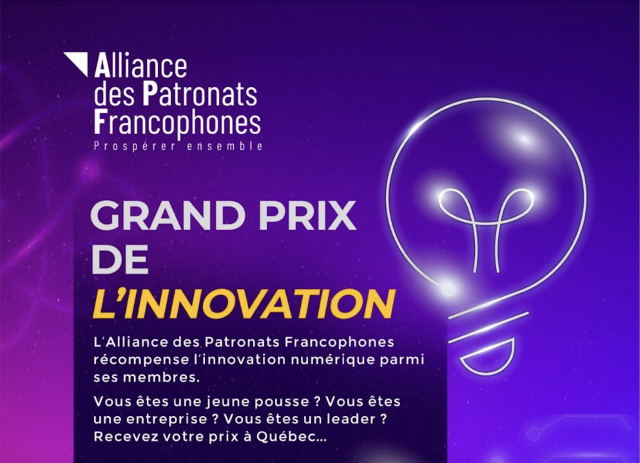 During the Rencontre des Entrepreneurs Francophones 2023 (#REF2023) held in Quebec City, YULCOM was selected as a finalist for the Grand Prize for Innovation by the Alliance des Patronats Francophones (APF). This event has the effect of promoting French-speaking companies around the world.
The Grand Prize for Innovation awarded by Alliance des Patronats Francophones rewards the actors of digital change in the #francophone space. With its presence in 11 French-speaking countries and its expertise in artificial intelligence, #bigdata and the design of digital platforms, YULCOM has been able to assert its position as a finalist deserving of this prestigious award.
The entire YULCOM team thanks the APF and the Conseil du patronat du Québec for their trust!
About the Alliance des Patronats Francophones
Alliance des Patronats Francophones is an association that brings together 27 French-speaking employers, present on five continents. The aim of the association is to participate in the multiplication of exchanges and partnerships between French-speaking countries, in various sectors (training, digital, investments, ecological transition, etc.)