Youmani Jérôme LANKOANDÉ, YULCOM's CEO Announced as a Finalist for EY Entrepreneur Of The Year® 2023 Québec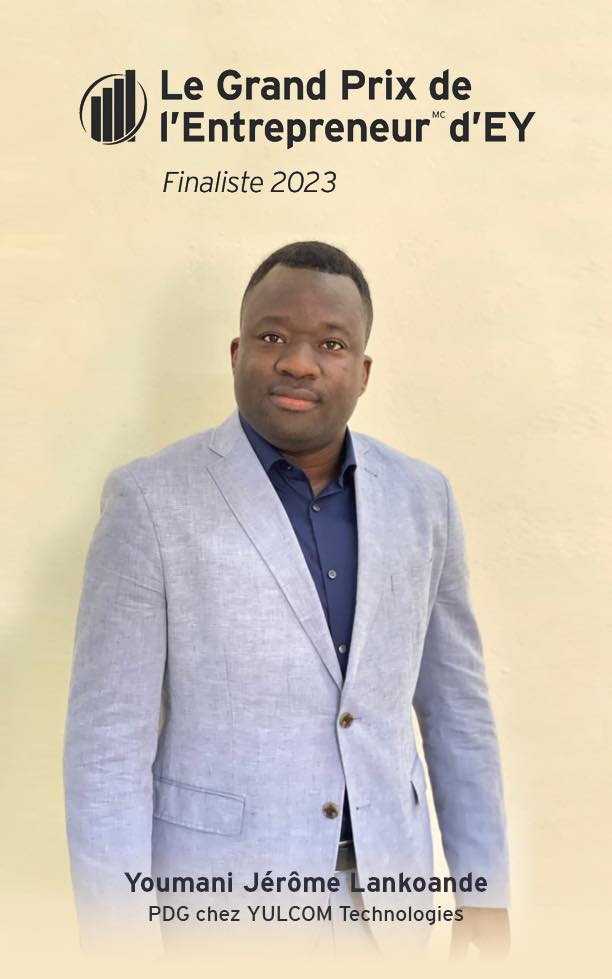 Montreal (QC), June 14, 2023 – YULCOM's CEO, Youmani Jérôme Lankoandé, announced as a Finalist for EY Entrepreneur Of The Year® 2023 Québec.
On June 12, 2023, EY Canada announced the nomination of YULCOM Technologies CEO, Youmani Jérôme LANKOANDÉ, as a finalist for the EY Entrepreneur Of The Year Award 2023 Québec.
The EY Entrepreneur Of The Year 2023 award spotlight entrepreneurs from across Canada who master the delicate balance of passion, determination, character and skill to create businesses that meet the
most complex challenges and help build a better world.
YULCOM's mission is to help improve our society using the web, big data and Artificial Intelligence. In 2015, Mr. Youmani Jérôme Lankoandé was named one of Canada's top 20 young leaders. Under Mr. LANKOANDE's leadership, YULCOM has won numerous awards, including the Alpha prize in the R&D category from the Chamber of Commerce and Industry of Saint-Laurent-Mont-Royal in 2022, the MercadOr 2022 award from Montreal-West, and the "Coup de cœur" award from the Diversity and Inclusion jury presented by Global Affairs Canada in 2023.
« At YULCOM we believe that innovation always wins, while simplicity lasts. That's why we work hard every day to deliver innovative, easy-to-use applications to our customers all over the world. I would therefore like to congratulate all our employees who contribute to the success of our company », says Youmani Jérôme LANKOANDÉ, CEO of YULCOM.
Learn more about Québec's finalists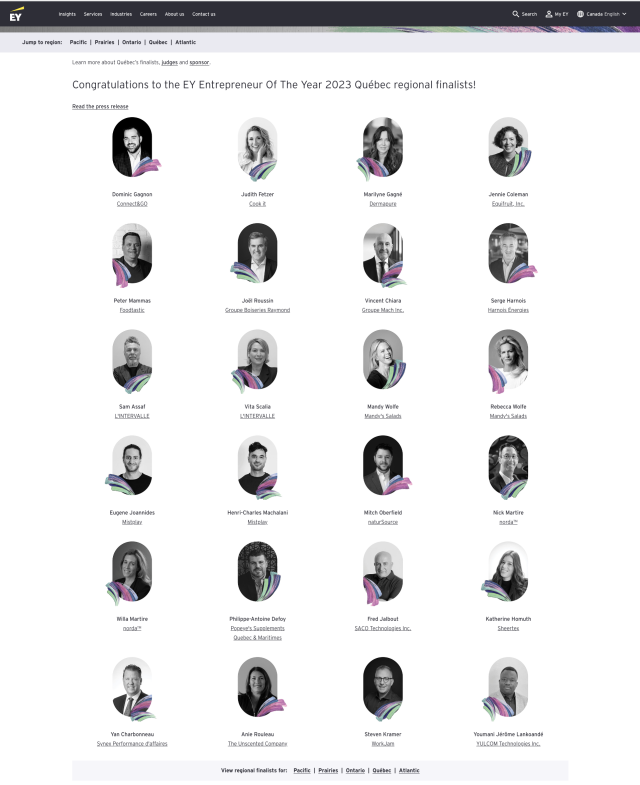 About EY Entrepreneur Of The Year®
EY Entrepreneur Of The Year is the world's most prestigious business award for entrepreneurs. The unique award makes a difference through the way it encourages entrepreneurial activity among those with potential, and recognizes the contribution of people who inspire others with their vision, leadership and achievement. As the first and only truly global award of its kind, EY Entrepreneur Of The Year celebrates those who are building and leading successful, growing and dynamic businesses, recognizing them through regional, national and global awards programs in more than 145 cities in 60 countries.
For more information about our organization, please visit ey.com
About YULCOM Technologies
YULCOM Technologies is a Montreal-based multinational consulting firm specializing in information
technology, systems integration and solutions using artificial intelligence and big data. YULCOM
specializes in web design, software development, web packages and web and mobile applications.
It assists its clients in integrating the best digital technologies and in improving their business processes in America, Europe, Africa and Asia.
For more information :
Louis Caron,
Project Director
1500 Du Collège, Office 400 Montreal, QC, H4L 5N4, Canada
Info@yulcom.ca  –  Tel: +1 514 375 6190 – www.yulcom-technologies.com