YULCOM Technologies wins the R&D Prize of the Alpha 2021 competition
Montreal, October 28, 2021 –    YULCOM Technologies wins the Alpha 2021 award for its investment in Research & Development and its international growth in the Research & Development and various technologies – SME category.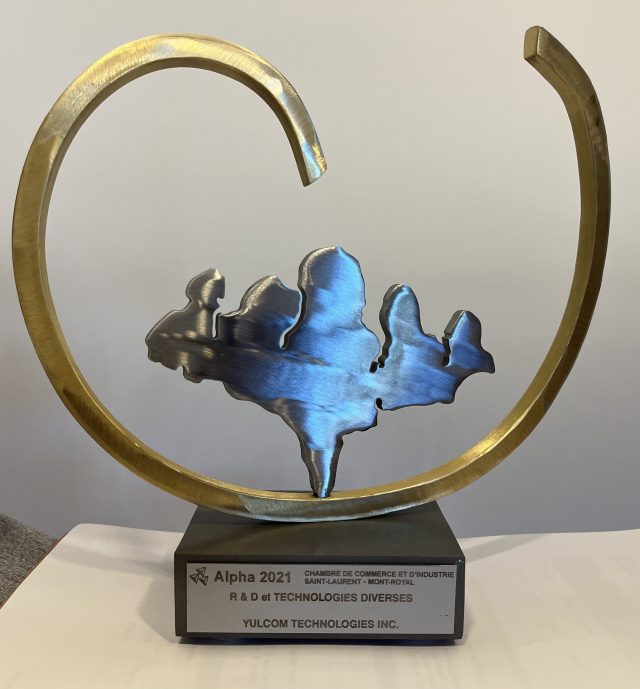 Youmani Jérôme LANKOANDE, CEO of YULCOM Technologies comments: "We welcome this award with deep gratitude to those who have accompanied us in our entrepreneurial adventure. Thank you to my collaborators in Canada and internationally, who through their hard work and creativity have made our company more competitive « .
« This award is the culmination of ten years of research and innovation efforts for the evolution of our YULBOOKS software suite and for the integration of artificial intelligence algorithms into our clients' management applications », underlines Mr. LANKOANDE.
During his acceptance speech for the award, Mr. LANKOANDE also thanked all the players in the entrepreneurial ecosystem of Quebec and Canada, in particular DESTL, Invest Quebec and the Chamber of Commerce and Industry of Saint-Laurent – Mont- Royal who supported YULCOM in strategy, financing and training respectively".
The ALPHA 2021 award by the Chamber of Commerce and Industry of Saint-Laurent – Mount-Royal is the highest distinction awarded to a company working in Saint-Laurent and Mont-Royal. The winner must have stood out through their innovations, performance and social contribution.
About YULCOM Technologies Inc.
YULCOM Technologies is a multinational information technology consulting firm headquartered in Montreal that integrates systems and solutions using artificial intelligence. YULCOM Technologies specializes in web design, software development, web software and web and mobile applications. The company assists its clients in integrating the best digital technologies and improving their process management. It carries out digital projects for clients operating in America, Europe, Africa and Asia.
For further information:
Jonathan Burnham
Communications Manager
YULCOM Technologies Inc.
1500 rue Du Collège, bureau 200 Montréal, QC, H4L 5N4 Canada
Info@yulcom.ca  –  Tel: +1 514 375 6190