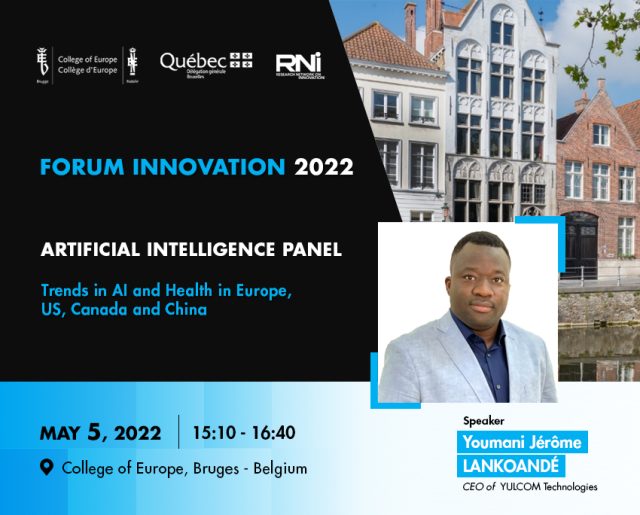 On May 5th and 6th, 2022, the College of Europe (Bruges, Belgium) is organizing the conference "Forum Innovation 2022", in collaboration with the Research Network on Innovation, the Délégation Générale du Québec and in partnership with EAEPE, Research Area. YULCOM has been invited to the conference and the CEO of YULCOM Technologies, Mr. Youmani Jerome Lankoande will be speaking on the Artificial Intelligence Roundtable.
The panelists:
Prof. Dr. Koen Jonkers, College of Europe / European Commission – Chair

Youmani Jérôme LANKOANDÉ, CEO of YULCOM Technologies Inc.

Catherine LUNARDI, President, GENAIZ

Prof. Dr. Andrew Ware, Swansea University

Dr Sandra Coecke, European Commission, Ispra, Italy

Dr Daniel Nepelski, European Commission, Seville, Spain
This conference aims to discuss the evolution, scope, and perspectives of research innovation policies in Europe. To do so, the RNI 2022 Forum on Innovation will bring together leading experts on innovation studies at national and regional level, from academia, industry, and policy makers, to discuss the factors that limit innovation, its transfer to society, and more generally the transformation of current systems and the ways Europe can scale up in terms of innovation and play a role in steering it toward societal goals.
The sponsors
.